Depeche Mode single "Cover Me"
Label: Columbia
Description: 12" Vinyl Single - 2 LP
LP 1 :
1. Cover Me (Ellen Allien Remix)
2. Cover Me (I Hate Models Cold Lights Remix)
3. Cover Me (Nicole Moudaber Remix)
4. So Much Love (Kalli Remix)
LP 2:
1. Cover Me (Erol Alkan V1.2)
2. Cover Me (Texas Gentlemen Remix)
3. Cover Me (Warpaint Steez Remix)
4. Cover Me (Josh T. Pearson Choose Hellth Remix)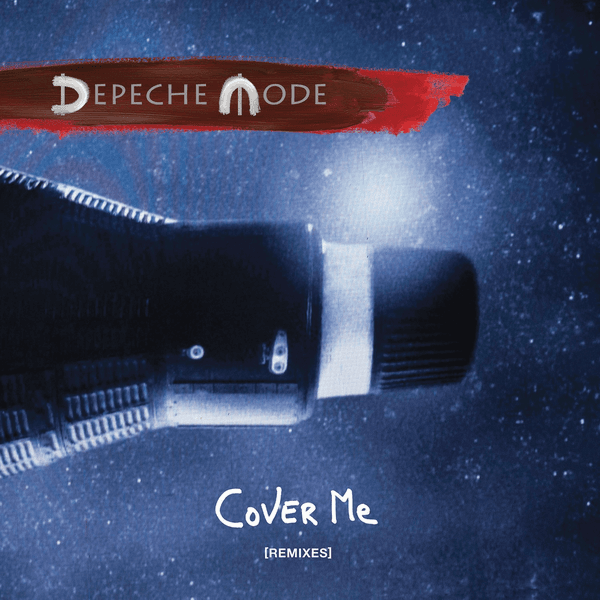 Dave Gahan wrote the song together with Peter Gordeno and Christian Eigner. Depeche Mode have said in interviews (like during the 2016 press conference) that producer James Ford taught himself to play Martin's pedal steel guitar within one day while in the studio, and thus this guitar was used in some songs including 'Cover Me'.
Dave talked about this song extensively to Phil Marriott:
"I wanted ['Cover Me'] to be very cinematic, and I had this sort of idea of us finally destroying this beautiful planet that we live on. Hence the northern lights: it's just one in many millions of beautiful things... the oceans, just things that we take for granted. And the "Northern lights" was just a metaphor that I wanted to use, because I did once experience actually being there while that was happening, way up north in Scandinavia. Yeah [it's quite an emotional experience], and it's also out of the world somehow, quite spiritual, and moving, moving to the point of tears, the beauty of something happening in our universe. And so I had this idea at that time, a little lyrical idea, not really a melody. But anyway, I came back to that, and that became that song. And I also saw the song in two halves, where the second half was where we are finally leaving or something. This person or whoever it is, who I live vicariously through, leaves the planet, only to find another planet that is exactly the same as ours, and he has this horrible feeling of like, "Oh wow, it's not the planet, it's me, I am doing this. I'm destroying this beautiful world that I live in. And that can be just an emotional relationship that you have with another person, or trying to be having a relationship with another person that you can't quite get to because you just can't. And that, for me, is quite often where I find myself with music and songs: I am quite often this other person. Of course it's me, but I can live vicariously through this performer, this guy that I've created, which is me, but a character. And throughout songs and films and books and stuff like that, that's where I get lost. [...] With 'Cover Me', the song that was coming to mind a lot, the feeling of the song that I wanted to get on this, and it's a totally different kind of song, but the feeling that I wanted to get was like Bowie's song 'Life On Mars', where the second half of the song seems to go to another place, or 'Space Odyssey', that kind of feeling. It opens up for you, the listener, to just be able to go off in their own dreams and ideas."