Depeche Mode from Southend Tech to the O2
(Thursdat January 13, 2001)
MAKING OF A BASILDON SUPERGROUP
WHEN music journalist Simon Spence was a teenager in the Eighties, he nursed an embarrassing secret.
There was this band from Basildon, and they were one of his favourites. He kept very quiet about the fact, however. "It wasn't cool to even mention Depeche Mode," he says.
Decades later, Simon, 39 has no qualms about being a Depeche Mode fan – him and tens of millions of others around the world. Cool is irrelevant. You don't need to worry about cool, when you are talking about one of the most successful bands in history.
With over 100 million sales, they are, as Simon points out, one of the ten top-selling bands of all time. Other stats also place them firmly among music's immortals. Their live concerts have attracted more than 30 million fans. They are the biggest-selling electronic band in history.
Simon, now a seasoned NME reporter and author of books about the music scene, has turned to Depeche Mode as the subject for his next big project.
There are other books about the band, but they tend to skim along the surface of the Depeche story, telling little more than the basic chronological facts, and drawing on approved public relations material.
Simon, by contrast, is asking, and gradually answering, the big questions. He is putting the hows and whys, rather than just the whens, onto the record.
Why did this particular sound emerge from Essex in the late Seventies? What were the personalities of the individuals involved? How did these individuals meld to create a unity? How did they emerge from a backwater called south Essex to conquer the world?
His methods are exhaustive. He conducts intensive interviews with dozens of people.
They are the support players and the walk-on acts in the Depeche Mode story. People who were involved directly with the band, but detached enough to be objective.
So far, he has talked to about 45 such people. They range from teachers and former girlfriends, to record company executive Seymour Stein.
The only people he didn't go to great lengths to interview were the guys themselves. Dave Gahan, Martin Gore and Andrew Fletcher have already put their version of the story on record.
"I almost felt I didn't need to speak to them," says Simon. "I've approached the story from other angles, and with an open mind. This is not an official biography."
As Simon's research continues, a common theme is starting to emerge. It is the importance of the new town background on the band. "The Depeche Mode story is 70 per cent a Basildon story," Simon says.
"They were growing up against the background of a raw new town that was also growing up. It was a key influence."
Another strong presence is the role of St Paul's Methodist Church in Basildon, and the way it blended with teenage angst. Fans will recognise the influence of religion in songs such as Personal Jesus.
There is also the people of south Essex who had a huge influence on the band. They brushed up against these seemingly ordinary Basildon boys without realising they were touching base with future greatness.
They were people like the greengrocer at Basildon bus station who employed Dave Gahan to cart fruit and veg, and fellow students at Southend College, where he qualified as a window dresser.
More grimly, there were also the magistrates who dealt with him at the juvenile court after his various forays into petty crime.
There were the teachers at Barstable and St Nicholas schools, attended by Dave Gahan and Martin Gore.
Not least, there were the early fans who sought out their gigs in Essex pubs and clubs and gave them a strong local base.
Their support went right back to the days when the raw band destined to become Depeche Mode were still performing as No Romance in China.
Simon's ferreting has even tracked down surviving copies of a local fanzine. These fans had good taste.
"I've been impressed by the respect that a lot of modern experimental artists have for the early Depeche Mode music," says Simon.
Simon has a track record of digging up buried goods. In the early Nineties, he tracked down an almost forgotten figure.
This was Andrew Loog Oldham, manager of the Rolling Stones in the early days of their fame and the man credited with giving Mick Jagger and others their bad boy image.
"He had gone to ground in Colombia, of all places," says Simon, who persuaded Oldham to put his extraordinary personal story on the record.
The result were two books, Stoned and 2Stoned, which give an unrivalled insight into the crazy, legendary days of Sixties pop, as seen by one of its key ringmasters.
Will Simon's book do the same thing for Depeche Mode?
In this case, "it's more about music and less about crazy antics," Simon says. "The great thing about Depeche Mode is they succeeded almost quietly, by the quality of their work.
"They were never really part of the central London scene. They were always on the last train back to Basildon."
The mystery nobody has really been able to answer is: Where did it all come from? Simon puts it down to the genius of three people. Vince Clarke set up the original band.
He departed Depeche Mode in 1981, just as the band's celebrity was beginning. "But he left his legacy in the way they experimented with electronic music, but found a way to make it popular," says Simon.
The others were the songwriters, Dave and Martin. "It's unusual to find two such songwriters alive at the same time, let alone brought up practically in the same street in the same town," says Simon.
"One of the images that sticks most in my mind comes from the very early days, when they were rehearsing in a front room at home in Basildon.
"They didn't have a live audience. So they lined up a row of teddy bears, and played to them."
To share your memories and pictures of Depeche Mode's early gigs around Basildon, e-mail
tom.king@nqe.com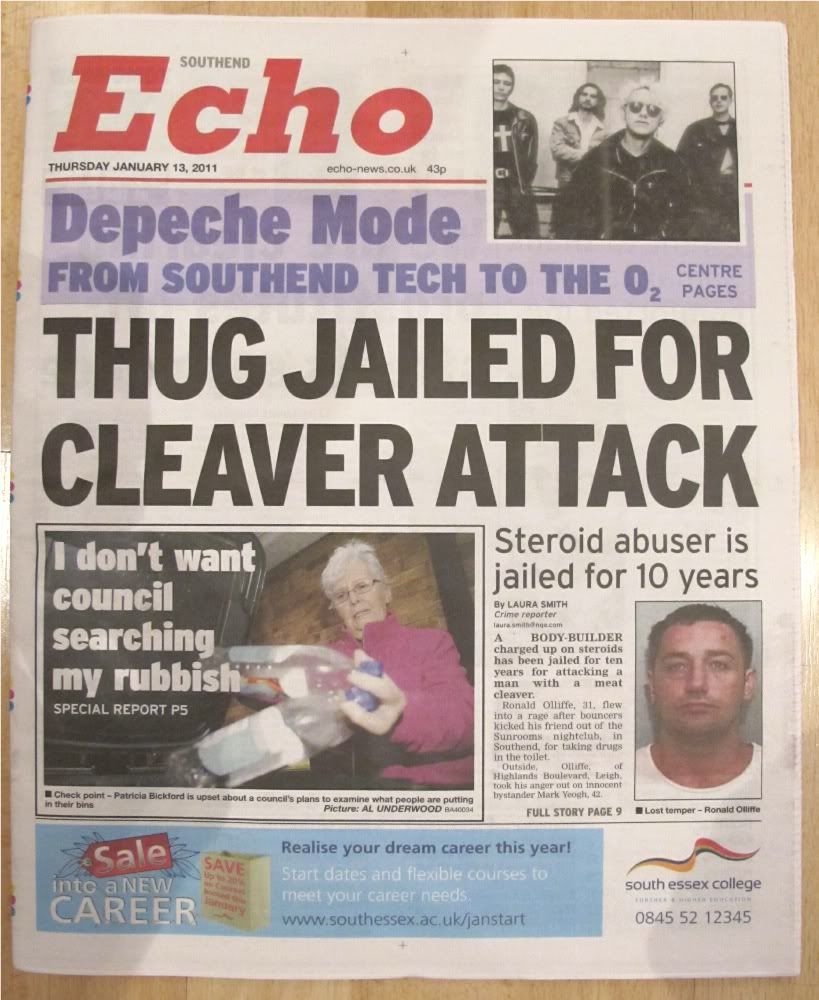 Info:
Английский журналист Simon Spence (NME) и Tom King (автор статьи) занимаются сейчас сборам информации и фото-документов для написании книги о первых шагах группы и восхождении её на мировую музыкальную вершину.
Саймон уже собрал порядка 45 интервью с учителями из школы, в которых они учились, с друзьями и подругами того времени. Беседовал с Seymour Stein, вице-президентом Warner Bros. Records и одним из основателей Sire Records.
Сейчас продолжается сбор информации для её дальнейшей публикации.
Ну что же будем надеяться, что издание увидит свет. И из него мы узнаем очень много и интересного, о самом пожалуй мало известном периоде творчества группы.